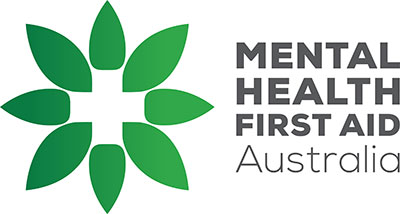 The 3 year internationally accredited 12 hour course is delivered over two days by Dianne Pepicelli, who will give you strong skills to recognise the signs of mental disorders early, effective strategies to assist, and the confidence to use them. The course can be customised for workplaces so that managers and employees can better understand mental health issues, promote a healthy workplace and minimise the risk to employees' mental health.
MHFA is a thoroughly evaluated, evidence informed, skills development course for individuals and organisations that provides:
Improved knowledge of mental illnesses, their treatments and appropriate first aid strategies.
Confidence in providing first aid to a person experiencing a mental health problem.
A decrease in stigmatising attitudes.
An increase in the amount and type of support provided to others.
Mental health first aid improves the health and bottom line of businesses. A research study conducted into Australian workplaces found that for every $1 invested in taking action to create a mentally healthy workplace, there was a return on investment of $2.30.
"Di was a great instructor for this course. She was very knowledgeable on the topics and allowed for group discussions and participated which was very important. Di had great skills in communicating and facilitating the smaller group size and made for a comfortable, accepting environment."
"Outstanding, enjoyed every second. Such a happy person and understanding."
"Very friendly and accommodating of the course participants."
Employability Skills Program
Ready to work is an intensive course targeted to jobseekers focussing on what employers are looking for in new employees. Throughout the course, students are systematically taken through all areas of being part of the workforce, and they learn the skills to deal with different situations in which they may find themselves with colleagues and customers. Through experiential learning, the students build the confidence and skills to perform in real work environments.
Understand what employers are looking for in employees;
Develop an understanding of how business works;
Demonstrate strategies to deal with issues in real life work environments;
Develop self-awareness of reactions to one's feelings and emotions;
Increased confidence and increased support networks;
Understand personal entitlements and obligations in the workforce; and
Create a 3-month action plan that aligns with personal long-term goals.
Ready to Work on My Business
Engage your team in experiential workshops which enable personal and team development. Focussed on identifying what success looks like and then holding themselves accountable for delivering on their goals. Each workshop is customised and developed based on the individual needs and objectives of your business.
Personality analysis - understanding the different personalities you are working with;
Understanding key character strengths of individuals and the team as a whole which impact on performance;
Developing and using emotional intelligence in the workplace;
Recognising our personal differences which support and hinder success creating a personal development plan and taking accountability for delivering it;
Ability to self-motivate and be self-solution when faced with challenges; and
Build trusting relationships and managing our own ego
Improve time management.
Personal Development Program
Achieve personal growth through an experiential learning approach that enables you to develop more successful problem-solving skills, communicate more effectively, build healthier relationships and significantly increase your self-confidence. You will learn techniques and strategies that will provide you with the tools to develop new roles and achieve your goals.
Feel better about yourself and dramatically increase your self-confidence;
Gain a solid sense of self-worth and be more assertive;
Eradicate limiting beliefs that block your progress;
Enhance your problem-solving skills;
Thrive on change and challenges;
Discover and define your purpose in life; and
Re-evaluate your life from a new perspective.