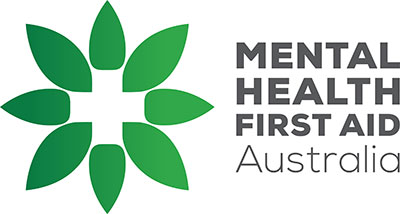 The 3 year internationally accredited 12 hour course is delivered over two days by Dianne Pepicelli, who will give you strong skills to recognise the signs of mental disorders early, effective strategies to assist, and the confidence to use them. The course can be customised for workplaces so that managers and employees can better understand mental health issues, promote a healthy workplace and minimise the risk to employees' mental health.
MHFA is a thoroughly evaluated, evidence informed, skills development course for individuals and organisations that provides:
Improved knowledge of mental illnesses, their treatments and appropriate first aid strategies.
Confidence in providing first aid to a person experiencing a mental health problem.
A decrease in stigmatising attitudes.
An increase in the amount and type of support provided to others.
Mental health first aid improves the health and bottom line of businesses. A research study conducted into Australian workplaces found that for every $1 invested in taking action to create a mentally healthy workplace, there was a return on investment of $2.30.
"Di was a great instructor for this course. She was very knowledgeable on the topics and allowed for group discussions and participated which was very important. Di had great skills in communicating and facilitating the smaller group size and made for a comfortable, accepting environment."
"Outstanding, enjoyed every second. Such a happy person and understanding."
"Very friendly and accommodating of the course participants."